Look Who's Using Lust
In the December/January 2020 issue of Fine Homebuilding magazine, Peter Gedrys, a finishing expert in East Haddam, CT, says he got great results brushing TotalBoat Lust on a piece of veneer plywood.
Peter says, "Right off the bat, I found that the varnish had good flow characteristics. Overall, Lust is an easy product to work with...the cost is in line with premium alternatives and the dry time is faster." You can read the complete article in the SPEC section, Great Finds Inspired By Our Best Houses (Issue 288).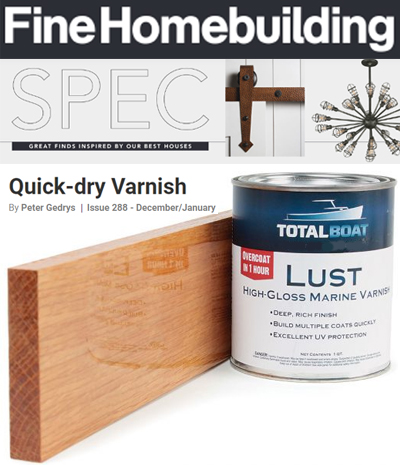 "Made to improve on slow-drying spar varnishes, this modified linseed oil polyurethane is a worthy competitor." — Peter Gedrys, finishing expert
---
Important Application Notes for Lust Matte:
Lust Matte is not intended for use as a sealer (base) coat. For a low-sheen finish with maximum clarity, we recommend using Lust Gloss or Gleam Gloss for sealer (base) and build coats. Finish with a topcoat of Lust Matte, which can be thinned with TotalBoat Special Brushing Thinner 100 (brushing/rolling) or TotalBoat Spray Thinner 101 (spraying) for improved flow.
---
Our New 2-Quart Kits Give You More Lust—for Less. And the Combo Kit Gives You Greater Clarity for a Matte Finish.
You told us how much you love Lust, so now you can buy High Gloss and Matte in 2-Quart Kits and save money. For those who want a matte finish with greater clarity, there's a combo kit containing 1 quart of TotalBoat Lust High Gloss Varnish and 1 quart of Lust Matte Varnish that allows you to build gloss coats to protect and highlight the wood grain, then finish with a couple of coats of matte varnish to get the smooth, gorgeous, non-gloss finish you desire.
---
What Makes TotalBoat Lust So Special?
In 2013, we introduced the first TotalBoat varnish, Gleam. While Gleam has been a tremendous success, comparing favorably with other one-part varnishes, our product development team continued testing formulations. Untold hours were spent evaluating gloss, UV resistance, build depth per coat, working time, and other critical factors.
TotalBoat Lust is the final result of all this testing. Being able to overcoat with no sanding, in as little as one hour, is a tremendous advantage and a quality unique to Lust.
Compared to Gleam, Lust's noticeably thicker viscosity will remind you of traditional European varnishes. Thicker viscosity means Lust can be thinned as needed for even more coverage.
If you need to finish a varnishing job quickly, you can apply up to 5 coats a day, under optimal conditions. Also, to overcoat, sanding is not necessary up to 48 hours. The results are truly UV resistant, flexible, and durable, with enhanced grain depth. Try it and see for yourself just how remarkable this innovative formula is on any type of wood, especially teak.
Note: If applying varnish in hot weather, it's more difficult to maintain a workable (wet) edge. Air temperature and humidity are important factors, but you must also consider the temperature of the wood surface. For example, if the air temperature is 100°F, the temperature of a dense, dark wood surface would exceed a recommended application temperature of 105°F. Other considerations in keeping a workable edge in hot weather include the size of the area you're varnishing, the time of day, and the amount of thinner or reducer added.
Please refer to the Lust Technical Data Sheet for complete mixing, thinning, and application details.
---
An Easier, Faster Way to Apply Sealer Coats
Bare wood, especially plywood, is very porous and needs to be sealed before applying build and finish coats of varnish. If not, the initial coats of varnish soak into the wood, requiring more varnish (and more money) to apply enough build coats until the surface is uniformly level enough for the final coat of varnish. With unsealed oily woods like teak and mahogany, the varnish's viscosity will not allow it to penetrate the wood grain and adhere properly, which will eventually cause it to lift and ruin the finish—and all your hard work.
For this reason, the first few sealer coats of varnish are typically thinned in order to penetrate and seal the wood. These sealer coats take time to apply, time to dry, and must be sanded between coats. Now there's an improved way to apply sealer coats.
Introducing TotalBoat Wood Sealer, it's easier and faster than using unthinned varnish for sealer coats. It seals bare wood grain and smooths the surface on all types of wood, doesn't require sanding between coats, and dries more quickly than thinned varnish. And unlike other wood sealers, it contains UV blockers that protect your beautiful varnish finish down to the wood surface. TotalBoat Wood Sealer is clear, so it enhances the beauty of the wood grain and the varnish finish. TotalBoat Wood Sealer (sold separately) is compatible with 1-part varnish, and is ideal for use with TotalBoat Gleam 2.0 and TotalBoat Lust varnish finishes. Refer to the Lust Spar Varnish Technical Data sheet for details on using TotalBoat Woods Sealer with Lust.